News & Events
■ 2018/03/23
A graduation ceremony was held for the guraduate school of University of Tsukuba. Two from this laboratory got a master's degree and two have a doctorate degree. Congratulations to all of you.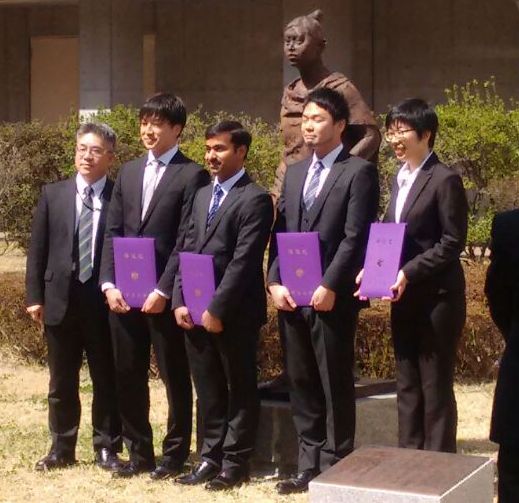 ■ 2015/07/24
Qing Shi took a degree of doctorate.
Congratulations! We wish you many successes.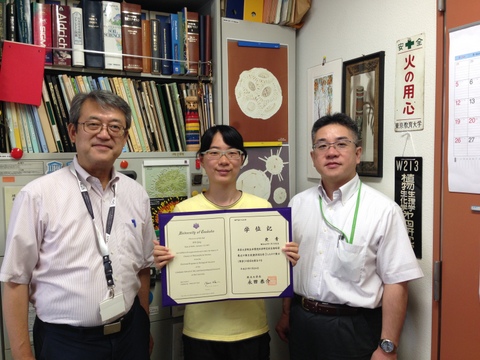 ■ 2015/05/30
Prof. Dr. Yosihiro Shiraiwa will be awarded "Marine Biotechnology Academy Award". Award celemony and honor lecture will be given at 17th Marine Biotechnology academic convension (Tokyo University of Marine Science and Technology, Shinagawa campus, 2015/05/30-31 http://marinebiotechnology.jp/mbt2015-HP/index.html). Marine Biotechnology Academy Award is given to researchers who has been contributed to Marine Biotechnology. The award is for the resarch achievement "Elucidation of very long fatty acid chain synthesis pathway and basic researh for algal biofuel development in marine Haptophyceae".
■ 2015/04/13
Special seminar by a guest researcher,
Martin Lukes from Institute of Microbiology, CAS Algatech Centre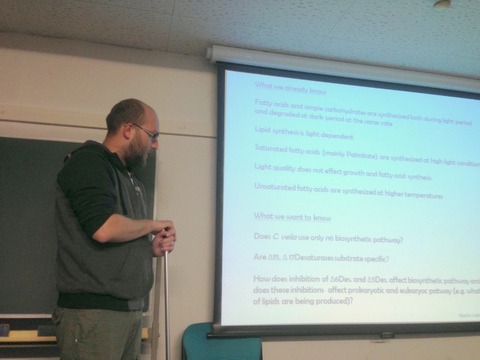 ■ 2015/03/25
Graduation ceremony was held in Daigaku-kaikan. From our laboratory, two students for undergraduate and seven for master course were graduated.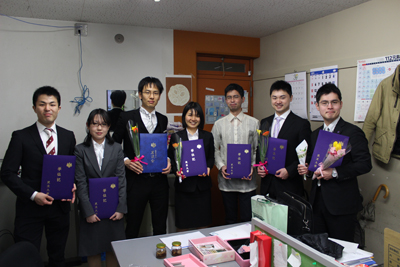 ■ 2015/03/20
Special lecture by Prof. Dr. Aalon Kaplan (Hebrew University of Jerusalem, Israel).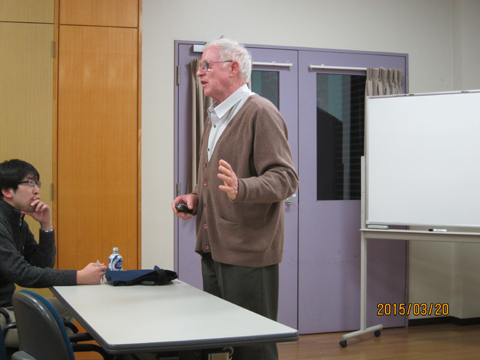 ■ 2015/01/30
Special seminar by a guest researcher, Dr. Rebecca Knight from Unversity of Texas, USA.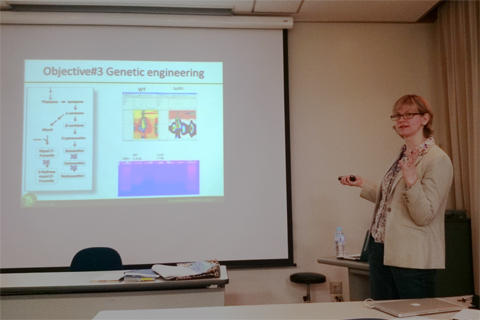 ■ 2014/12/12
Last presentation by a guest researcher, Ms. Angela Pelusi from Universita Politecnica delle Marche, Italy. She has visited here for totally six months and carried out a physiological study of haptophytes and FT-IR analysis of alkenones.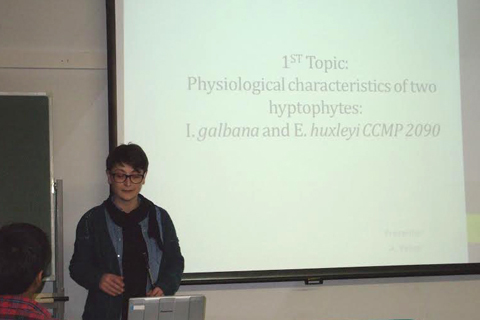 Pamphlet
A laboratory pamphlet is available now.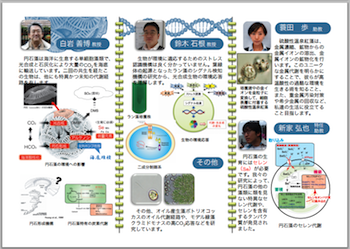 Archives これ以前のものはこちらから
Publications
■ 2015/09/07
[Note from Shiraiwa Lab]
Alkenone Body: A Novel Lipid Body Identified as a Major Carbon Storage Organelle in Alkenone-Producing Haptophyte Algae
more

Research Article

■ 2015/09/01
[Paper]
Light intensity modulation by coccoliths of Emiliania huxleyi as a micro-photo-regulator. Yuri Mizukawa, Yuito Miyashita, Manami Satoh, Yoshihiro Shiraiwa & Masakazu Iwasaka Scientific Reports 5, Article number: 13577 (2015) doi:10.1038/srep13577 [Open Access]
Prof. Shiraiwa's group in collaboration with researchers at Hiroshima University found that the coccolith disks made of calcium carbonate in Emiliania huxleyi, one of promising biomass resources, potentially perform roles in reducing and enhancing the light that enters the cell by scattering the light. To figure out the physiological significance of coccoliths formation in E. huxleyi can contribute to promote the efficient bioenergy production using microalga.
http://www.jst.go.jp/pr/announce/20150901
PDF

■ 2015/04/18
[Review]
Lipid metabolome analysis of marine microalgae introducing ion trap mass spectroeter. (Japanese title:イオントラップ型質量分析を導入した海洋微細藻類の脂質メタボローム解析.(review paper), with peer review)  RADIOISOTOPES 64:255-264 (2015).
Ohi N, Shiraiwa Y PDF



This review is a summary about the result of algal metabolome analysis technics worked by authors. Lipid analyses of algae differ from land plant's one, and require new technological development. Thus these review provide valuable information for the researchers who engage in algal lipid, oil production, and metabolism. This is study result of CREST/JST (domein manager:Matsunaga Tadashi; work representative:Shiwaiwa Yoshihiro).

■ 2015/04/15
[Review]
Distinctive features of photosynthetic carbon metabolism in secondary endosymbiotic algae.
Tsuji Y and Shiraiwa Y
Perspectives in Phycology, in press. ISSN 2198-011X (online) (Peer-reviewed article).

This review paper focused on the characteristics of photosynthetic carbon metabolism on Diatom and Haptophyceae as secondary plants, explaining and comparing each characteristic, and also comparing characteristics of primary and secondary plants. Our serearch groups has been studied about characteristics of photosynthetic carbon metabolism on Haptophyceae, and achievement in this review focus on authors research. This is study result of CREST/JST.
■ 2015/04/03
[Paper]
Proteomic analysis of lipid body from the alkenone-producing marine haptophyte alga, Tisochrysis lutea.
Shi Q, Araie H, Bakku RK, Fukao Y, Rakwal R, Suzuki I and Shiraiwa Y
Proteomics, in press.
In this thesis, lipid body of alkenone producing alga Haptophyceae Isochrysis which consists of alkenone, named "Alkenone Body", and elucidated the lipid composition and protein composition by proteomics and lipidomics. This thesis is part of doctor academic dissertation of Shi Quing, and study result of CREST/JST.
■ 2015/04/01
[Book]
Selenium in algae. In: The Physiology of Microalgae; M.A. Borowitzka, J. Beardall and J.A. Raven, Eds.; Springer-Verlag: Heidelberg, Germany, in press.(Book Chapter)
Araie H and Shiraiwa Y
Contributed the chapter about "Utilizaton of selenium in algae" in the specialized book which covers latest research developments of micro algae.

■ 2015/03/26
Prof. Dr.Yoshihiro Shiraiwa gave invited lecture at Advanced Technology Program (ATP) of The Chemical Society of Japan 95th spring annual meeting (2015/3/26~29 at College of Science and Technology, Nihon University) On 3/8, He gave the lecture "Elemental Enrighment and Bioremediation by Algae" in the session "Chemistry which sustains Eneryy high efficient uses and environment" ATP has been conducted to promote communication amoung government, industry and academia by researchers from each background gather for presentation and discussion about chemical technology field.
■ 2015/03/21
[Meeting]
Spring convention of The Oceanographic Society of Japan in 2015 (2015/3/21~25, Tokyo University of Marine Science and Technology, Shinagawa campus, Tokyo)

"Metabolome Analysis for Biofuel Construction in Marine Phytoplankton" ◯Ohi N (Japan Weather Association), Shiraiwa Y (Tsukuba university, Life and environmental sciences), Symposium "Study for Light and Plankton ~Present and Future~" (Converner: Hiroaki Saito (Atmosphere and Ocean Research Institute, The University of Tokyo), Tatsuki Toda (Department of Engeneering, Soka University))

"Dramatic Decrease of Sea Ice in Arctic Sea -Impact on Biological Productivity and Material Circulation-" ◯Harada N (JAMSTEC), Onodera S (JAMSTEC), Watanabe H (JAMSTEC), Kimoto K (JAMSTEC), Kikuchi T (JAMSTEC), Matsuno K (National Institute of Polar Research), Yamaguchi A (Hokkaido University), Sato N (Tsukuba University), Shiraiwa Y (Tsukuba University), Kishi M (Hokkaido University), Tanaka Y (National Institute of Advanced Industrial Science and Technology)

"Elucidation of Adaptation Mechanism for Photosynthetic Cold Stress in Coccolithphore Emiliania Huxleyi Found in High Latitude Area." ◯Ito H (Tsukuba University), Sato M (Tsukuba University), Harada N (JAMSTEC), Suzuki I (Tsukuba University), Shiraiwa Y (Tsukuba University)
■ 2015/03/15
[Paper]
Quantitative analysis of carbon flow into photosynthetic products functioning as carbon storage in the marine coccolithophore, Emiliania huxleyi.
Tsuji Y, Yamazaki M, Suzuki I, Shiraiwa Y
Marine Biotechnology, in press PDF


Open Access
A paper was accepted by Marine Biotechnology. We demonstrated the carbon flux of Emiliania huxleyi using a 14C radioisotope.
■ 2015/03/07
[Seminar]
Special seminar by Prof. Dr. Yosihiro Shiraiwa in Institute for Marinae & Antarctic Srudis (IMAS), University of Tasmania, Australia.

Production of alkenones and alkenes as biofuel candidates by marine microalgae: algal lipidomics approach
○Yoshihiro Shiraiwa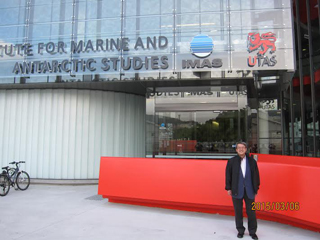 Link for detailed information is here.

■ 2015/03/05-06
[Meeting]
"2nd International Workshop of Cyanofactory" (Tokyo University of Agriculture and Technology) was held. Ryo Asada was awarded the best poster presentation prize.

A novel system for bacteriolysis artificially induced by phosphate-deficiency in Synechocystis sp. PCC 6803
○Ryo Asada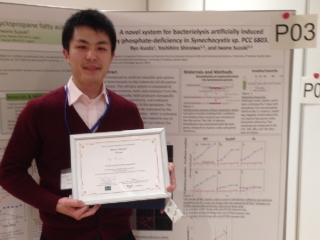 Construction of cyanobacteria synthesizing cyclopropane fatty acid
○Shuntaro Machida

■ 2015/01/16
[Paper]
n-Nonacosadienes from the marine haptophytes Emiliania huxleyi and Gephyrocapsa oceanica.
Nakamura H, Sawada K, Araie H, Suzuki I, Shiraiwa Y
Phytochemistry, in press, PMID:25595675
A paper was published in Phytochemistry. We determined the molecular structure of C29 alkenes produced by Emiliania and Gephyrocapsa.
■ 2014/11/06
A review paper about High-CO2 acclimating mechanism in microalgae published in "Advances in Photosynthesis - Fundamental Aspects" achieved over 4,000 online access.

High-CO2 Response Mechanisms in Microalgae.
Baba M, Shiraiwa Y
PHOTOSYNTHESIS Edited by Zvy Dubinsky, InTech (2013) Chapter 13, 331-356
InTechOpen
Archives これ以前のものはこちらから
Conferences
■ 2015/08/28
Prof. Dr. Yoshiro Shiraiwa gave keynote speech about "Algal Biofuel Production Technology and Engineering" at INTERNATIONAL CONFERENCE ON SUSTAINABILITY INITIATIVES (ICSI 2015) IN CONJUNCTION WITH 8TH ASEAN ENVIRONMENTAL ENGINEERING CONFERENCE (AEEC) held in UTM/MJIIT in Malaysia. more 1

more 2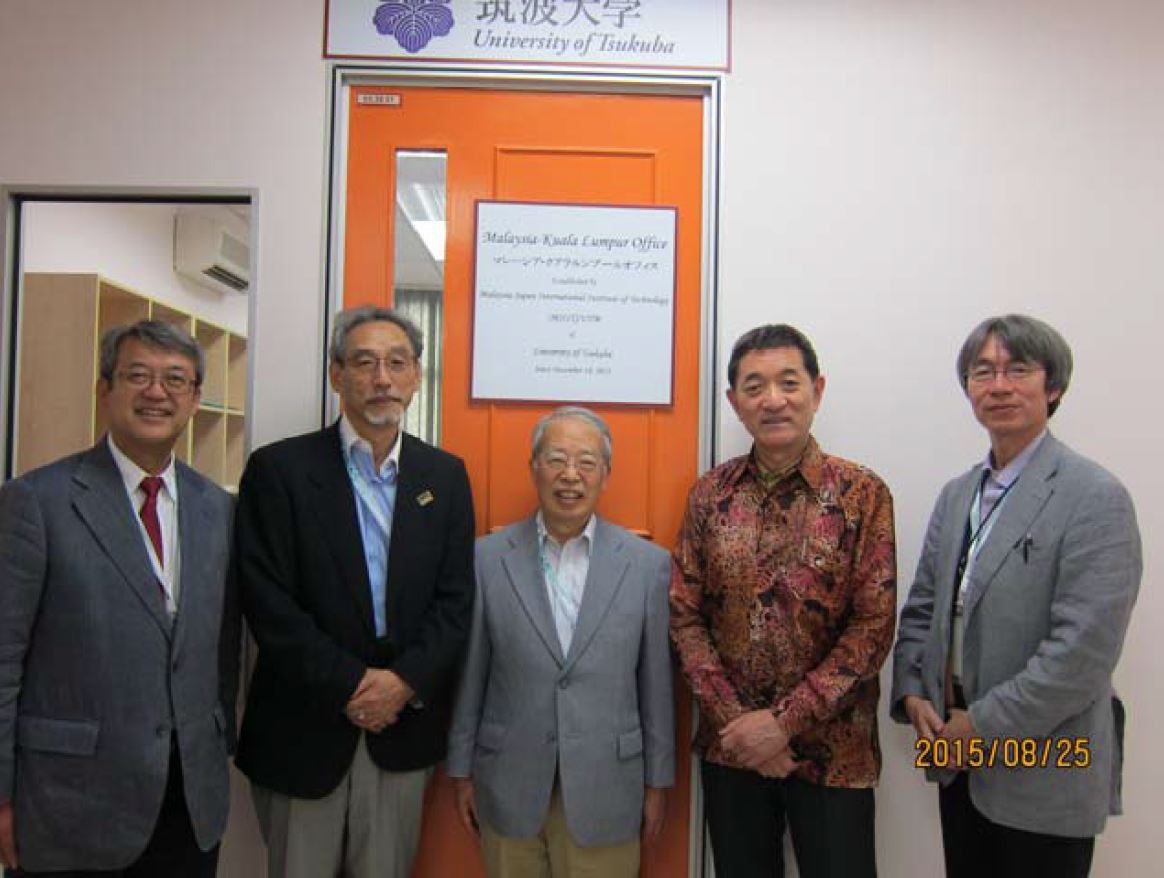 ■ 2015/08/22
Prof. Dr. Yoshiro Shiraiwa gave plenary lecture at 3rd International Conference on Coastal Biotechnology (ICCB2015) at Tsingtau, China. The title was "Metabolomic and Proteomic Study on Lipid production mechanism: An Approach toward Biofuel Production by Marine Microalgae".
PDF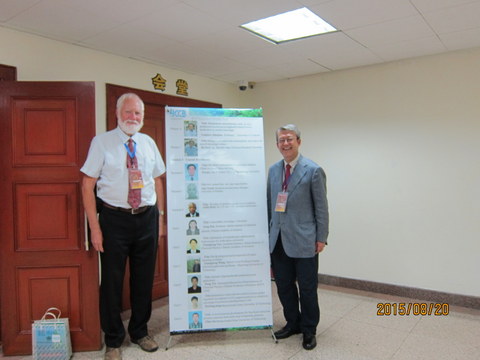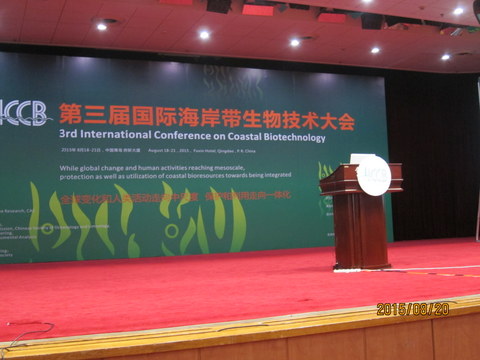 ■ 2015/08/02
Prof. Dr. Iwane Suzuki and Shuntaro Machida presented their study at 15th International Symposium on Phototrophic Prokaryotes: ISPP at University of Tubingen, Germany.
"Analysis of signal-sensing mechanism of ethylene sensor from Arabidopsis by expression of chimeric sensors in Synechocystis"
Misaki Kawaguchi, Yoshihiro Shiraiwa, ○Iwane Suzuki
"Construction of cyanobacteria synthesizing cyclopropane fatty acid"
○Shuntaro Machida, Yoshihiro Shiraiwa, Iwane Suzuki
■ 2015/07/10
Prof. Dr. Yoshiro Shiraiwa gave plenary lecture at 5th UL Algae Conference in The University of Glasgow, Scotland, UK. The title was "Algal bioremediation of water contaminated by radionuclides and the concentration of microelements".
PDF